Pre-Denmark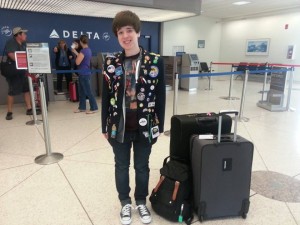 Well here I am, finally on my journey to Denmark.  However, this journey is now at a stop as I wait for my 6 and a half hour layover to be over.  I'm in Minneapolis, awaiting my flight to Amsterdam and I thought that this would be a good time to reflect on how today has been so far.
This morning went exactly as planned until I actually reached the airport.  Apparently, since I was an unaccompanied minor I couldn't fly on the flight to Amsterdam because if there was a cancellation, I would be left alone in the airport.  Since this was against Delta's policy, they told me I would have to reschedule my flights or drive to Minneapolis. Luckily, we were able to straighten it out and I went on my way!  Apparently, when they say "unaccompanied minor" they don't mean a minor that is unaccompanied.  They mean a child who is being escorted on their flights.  Either way, I decided that the lady behind the desk had not only woke up on the wrong side of the bed, but had woken up on the wrong bed altogether, because her crankiness seemed like it was coming from more than just "a bad day."
Up until this point, I've been extremely excited for my departure, not sad, and I've held the emotional range of a teaspoon. (Harry Potter reference)  During my actual departure, I was close to tears as I said goodbye to my family, and I had the emotional range of at least a table spoon.  Clearly I need to work on my emotions so that I'm not confused with Kristien Stewart.
Before I left, I had one last meal in America, which ironically was a Mexican Quesadilla.  I said goodbye to my family and Grandma with hugs and I went through Security (which took over 10 minutes because I had so much stuff that needed to be checked)  After waving to my parents through the glass, I turned to leave,but….You know that stand at the bottom of suitcases that allows it to stand up? Yeah.  It just kind of fell off.  No big deal.  I can't stand it upright anymore and it just has to lean on stuff, but oh well.  I just left the suitcase-bottom-standy-thingy right where it fell and walked away.
Once I arrived on the plane, I was filled with sadness about saying goodbye to my family and the fear of plane crash. Though I've ridden planes many times, I was still worried and actually read the pamphlet about what to do if the plane had a sudden landing.  The flight attendant actually walked all the way back to the plane to thank me for being the only one that listened to her when she gave instructions on what to do in an emergency situation, laughed, and walked back to the front.
The guy in front of me kind of looked like a gym teacher I had, and apparently he played for the Loggers.
Now I'm in the airport, doing the Powerpoint I procrastinated on, blogging, and playing cards against humanity.  I've seen far too many cowboy boots and matching t-shirts and I've only been here for a few hours.  I'm no longer sad, and now I'm just excited to finally go to Denmark and meet my host families!  I bought the fast wifi and found a nice couch where I can charge my devices while being comfortable. I think I have one of the only chairs right next to an outlet! Score!
That's all I have for now, so I guess I'll update you guys later!  Hej Hej!
Hej! (Not a typo, just the Danish word for Hi!)  It's been 9 months since I decided to go on a year long foreign exchange through Rotary.  The past 9 months have been filled with lots of paperwork, preparation, waiting, and more paperwork, but it's all been worth it so far.  In early February, I found out that the country I'd be going to is Denmark, which sent me walking around the house saying "Yessss, yessssss!" in a victory walk.  Since that day, I've learned a lot about the country itself, and have been attempting to learn the difficult language of Danish.  Now, I have two and a half weeks before I get on a plane (followed by 2 more planes) on my journey to Denmark!  In this blog I'm going to try to capture my exchange in words, showing my emotions, mess-ups, and all of the cultural differences between my home and host countries.
Where I'm going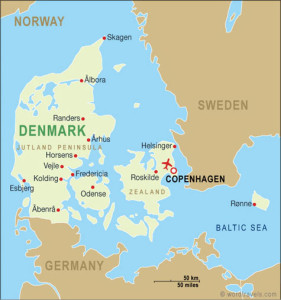 In Denmark I'll be living in 3 different towns surrounding the city of Ringe, which has a population of about 6,000 people.  I'll be living in towns such as Ryslinge and Årslev, which have populations around 2,000.  About 15 minutes away from my towns is the city of Odense. (170,000 people)  All of these cities are in the center of the middle island of Denmark called Fyn/Funen.  By car or train, I'll be an hour and a half from Copenhagen.  My high school is called Midtfyns Gymnasium, located in Ringe. Check out mfg.dk if you want to see my school.  I'm also about 20 minutes away from the beautiful Egeskov castle.
The language of Denmark: Danish
Danish, called "Dansk" in Danish, is considered by some as the hardest language.  At first I thought that I could tackle it pretty easily by just going through Rosetta Stone and I'd be as fluent in Danish as I am in Spanish.  This, of course, was just wishful thinking that ended once I realized that Danish Rosetta stone was made up to level one and was discontinued.  I got my hands on the discontinued copy, but it was pretty confusing, and I only picked up useless level one phrases and sentences, such as "The girl is on the yellow airplane."  I stopped using it after I realized that after spending hours on it, I could only name colors of airplanes, as long as the airplane was yellow, red, or blue.  I've decided that the reason that Danish is so hard is because how a word is spelled is completely different from how it's pronounced.  For instance, g's and v's can be silent depending on their placement in a sentence.  Logically, the city "Ringe" would be pronounced similar to the English word of "hinge," but in reality, it sounds closer to the word "Orangutang."  Sigh.  Recently, I've been using Babbel.com (which I totally recommend) and I can say some sentences!  I hope that I can at least be conversational by the time I'm done with my exchange, and I'm going to try my hardest to learn as much as I can.
Conclusion
With only 17 days left, I'm incredibly excited to go to to Denmark on a journey that will change my life.  I apologize for making this entry far longer than it needed to be, and if you actually read this far, you deserve a hug.  I'll continue to update everyone on my life once I get there, and hopefully it'll be interesting enough to read!
Hej Hej (Goodbye)
-Cameron Neader