Introduction
Hej! (Not a typo, just the Danish word for Hi!)  It's been 9 months since I decided to go on a year long foreign exchange through Rotary.  The past 9 months have been filled with lots of paperwork, preparation, waiting, and more paperwork, but it's all been worth it so far.  In early February, I found out that the country I'd be going to is Denmark, which sent me walking around the house saying "Yessss, yessssss!" in a victory walk.  Since that day, I've learned a lot about the country itself, and have been attempting to learn the difficult language of Danish.  Now, I have two and a half weeks before I get on a plane (followed by 2 more planes) on my journey to Denmark!  In this blog I'm going to try to capture my exchange in words, showing my emotions, mess-ups, and all of the cultural differences between my home and host countries.
Where I'm going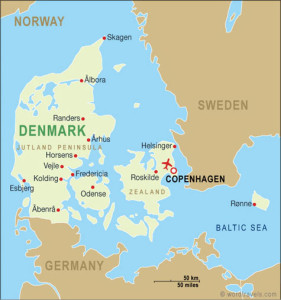 In Denmark I'll be living in 3 different towns surrounding the city of Ringe, which has a population of about 6,000 people.  I'll be living in towns such as Ryslinge and Årslev, which have populations around 2,000.  About 15 minutes away from my towns is the city of Odense. (170,000 people)  All of these cities are in the center of the middle island of Denmark called Fyn/Funen.  By car or train, I'll be an hour and a half from Copenhagen.  My high school is called Midtfyns Gymnasium, located in Ringe. Check out mfg.dk if you want to see my school.  I'm also about 20 minutes away from the beautiful Egeskov castle.
The language of Denmark: Danish
Danish, called "Dansk" in Danish, is considered by some as the hardest language.  At first I thought that I could tackle it pretty easily by just going through Rosetta Stone and I'd be as fluent in Danish as I am in Spanish.  This, of course, was just wishful thinking that ended once I realized that Danish Rosetta stone was made up to level one and was discontinued.  I got my hands on the discontinued copy, but it was pretty confusing, and I only picked up useless level one phrases and sentences, such as "The girl is on the yellow airplane."  I stopped using it after I realized that after spending hours on it, I could only name colors of airplanes, as long as the airplane was yellow, red, or blue.  I've decided that the reason that Danish is so hard is because how a word is spelled is completely different from how it's pronounced.  For instance, g's and v's can be silent depending on their placement in a sentence.  Logically, the city "Ringe" would be pronounced similar to the English word of "hinge," but in reality, it sounds closer to the word "Orangutang."  Sigh.  Recently, I've been using Babbel.com (which I totally recommend) and I can say some sentences!  I hope that I can at least be conversational by the time I'm done with my exchange, and I'm going to try my hardest to learn as much as I can.
Conclusion
With only 17 days left, I'm incredibly excited to go to to Denmark on a journey that will change my life.  I apologize for making this entry far longer than it needed to be, and if you actually read this far, you deserve a hug.  I'll continue to update everyone on my life once I get there, and hopefully it'll be interesting enough to read!
Hej Hej (Goodbye)
-Cameron Neader
One Response to Introduction